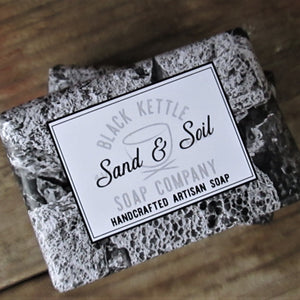 A cleaner way to play in the mud, soothing soap made with Rhassoul clay from deep below the Atlas Mountains in Morocco. It's rich in Silica, Magnesium, Iron, Calcium, Potassium and Sodium. Superfine pumice has been added to exfoliate your skin, as well as, spicy cracked pepper and a custom blend sandalwood and black pepper scent.
Each bar is handcrafted in small batches using the finest ingredients, and , is of course, naturally biodegradable.
Ingredients: Saponified oils ( coconut, olive, rice bran, soybean, castor), water, fragrance, pumice,  Rhassoul clay, black pepper.
Net Wt. 4.2oz