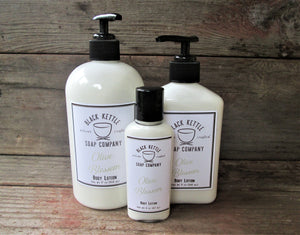 Olive Blossom Body lotion made with Olive oil and Shea Butter scented with Verbena and Olive blossoms, bright and refreshing. This lotion is thick , rich and very moisturizing. It's made with the same base as our Fig + Olive Lotion.
Travel Size 2 oz
Pump 9 oz
Large Pump 17 oz
Packaging may vary from what is pictured.
"MUST have the large size bottle of this! Fantastic scent, super moisturizing, best body lotion I have used in a LONG time!"