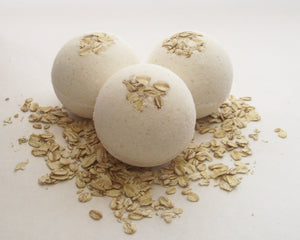 Soothing milk and oatmeal relieve dry, parched skin. Honey is one of nature's richest gifts and is beneficial to the body in many ways. It naturally helps skin to stay supple and soft. The best oatmeal bath ever!
Bath salt bombs are fizzy balls full of delightful aromas, detoxifying salts, botanicals and luxurious oils. This bomb has so much salt, you can actually feel the difference. While you are in the bath, drop one in and treat yourself to a relaxing spa treatment at home.
Ingredients: sodium bicarbonate, citric acid, sea salt, magnesium sulfate, coconut oil, fragrance, oatmeal, cow's milk, honey, dried flowers.
Net Wt. 8.5 oz.