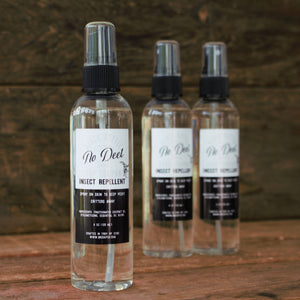 It's that time of year again when all manner of pest decide that we would make a most delicious snack. Where I live, in Upstate new York, mosquitoes are the worst. Under your clothes, over your clothes, I don't know how they do it but somehow they will get you.
We are officially offering our No Deet outdoor protection for sale in our shop. I make this for my own family every year and we sell the extras at our craft shows. So many people keep asking, "Do you have that bug spray?"  Now, here it is!
We have harnessed the power of essential oils to keep pesky critters at bay. And our spray smells incredible, not medicinal or ultra herbal, but a lemon cream scent. We are delivering this great essential oil blend to you in our dry body spray base, so your skin will also feel fabulous.
Essential oils are all natural but also potent. This spray, or really any essential oils for that matter, should not be used on infants under 6 months.
Stay healthy and safe this summer and don't forget your sunscreen.
Ingredients: Fractionated Coconut Oil, Cyclomethicone, Essential oil blend
Net Wt. 4 oz.