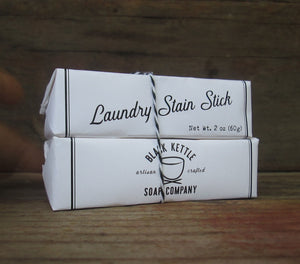 With 7 children the opportunities for stain removal are greatly increased. My special soap formula is the best stain remover I have ever use. I have removed spaghetti stains from white jeans, milk stains from bibs, everyday dirt and grime, and every beverage imaginable. Oh, and tons of oil stains from soap making. My only regret is that I did not create it sooner, I could have saved a lot of cute clothes.
Stain Removal
Easy and Eco Friendly
All Natural Stain Stick
Wet garment and rub on offending stain. Rub the fabric together or use a laundry brush to loosen the stain. Launder as usual. Garment does not have to be washed immediately.
This listing is for 1 stain stick.
 Stain Stick Reviews:
"I wanted to wait until I used this to leave feedback. It arrived very quickly and the best news is that it effectively got rid of a stain that I'd had trouble with in the past (that had not come out with other inferior products). Great product! "
"This stain stick is absolutely awesome. It has proven itself over and over again by taking hard stains (grease, grass, blood) out of white's. Great product!"
"Love it! I was looking for stains to try it out and got to use it to get grape juice out of a white t-shirt and it worked great! Thanks!"
"This is a wonderful product, I have a little grandbaby in the house that spits up after his bottle, I used this already today when washing his clothes and it works wonderfully. No dangerous chemicals, natural earth friendly solution to fighting stains. Thank you for the fast shipping, great customer service and exceptional product, I will be back!"
"Amazing! I was waiting until I had a nasty stain to treat until I left feedback. This little stick got out a greasy black tire stain from my husbands khaki's. I will definitely be back for more of this amazing stain lifter!"
"I was surprised how quickly this came in the mail considering that it is Christmas time. I just tried out the stick on some set in stains and it definitely met my expectations. Thank you very much. I will return to repurchase."
"Easy to use and worked like magic! Thank you for making such an awesome product!"
"I'm amazed how well this works. I'll definitely order again."
"This little stick took out a stain that had been set for months!"
"I loved my laundry stain stick so much I ordered this one for my daughter-in-law!" ~ Cyndi