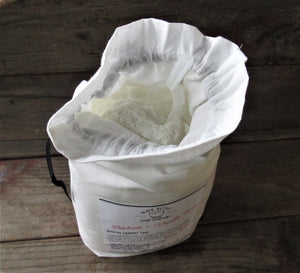 As a mother of seven, I know laundry. And as a seasoned soap maker, I know soap. I have combined the two to make one outstanding laundry soap.
Our laundry soap leaves your clothes clean, nicely scented (or not) and softer than ever, no fabric softener needed. It will arrive at your home in a handmade, reusable drawstring bag (I made it myself), with a gingham fabric ribbon, scoop included ready for to clean 160-320HE loads of clothes.
5 lb bag of Natural laundry soap, clean, non-toxic, efficient and earth friendly. Our special soap, made specifically for laundry, is mixed with naturally occurring minerals and citrus to provide you with fresh, clean, laundry…Naturally.
~ COMPLETELY NATURAL
~ HE machine compatible
~ Prevents mildew smells in front load washers
~ Works great in any temperature
~ Safe for the environment and your septic system
~ Biodegradable and Phosphate Free, No sulfates
~ No fabric softener needed- clothes are soft without it
~ Perfect for sensitive skin and baby's laundry & cloth diapers.
~ Borax Free
~ Vegan
One tablespoon sized scoop cleans a super size load beautifully, whites come out nice and bright. Use 1/2 tbl. for high efficiency machines. For extra hard water try adding a 1/2 cup of vinegar in your rinse compartment for super soft clothes.
Try the natural way to do laundry.
Available in Unscented, and Scented.
Scented with essential oil, and no phthalate fragrance oils.
Want to double your scent? Add a scent shot.
What our Customers have to say...
"So I thought I'd try another natural laundry soap from another Etsy user. She was a bit cheaper and as I was trying to find something I could use indefinitely - I thought I'd try a couple before deciding on a winner.
I LOVE the scent of your laundry detergent (Olive Blossom). The first time I washed my sheets and I went to bed and pulled the blankets up - wow - I was in Heaven. So - I used all of your detergent and then ordered some from another shop - washed my sheets and did the same thing thinking I was going to get the same results -- NOT!!!
No smell. NONE. So, I ordered a 5-lb. bag from you! Can't wait to get it and re-wash my sheets!!" Deb
--------------------------------------------------------------------------------------------------------
"Repeat customer many times. This is my "go-to" shop for all my laundry needs. My fragrance of choice is Cashmere, as it lingers softly for days. Thank you Arricka for making a major chore enjoyable!" ~Linda
--------------------------------------------------------------------------------------------------------
"I have very sensitive allergies and have trouble with any scented detergents (they usually give me migraines or make me start wheezing), so I was hesitant to order anything scented. But this is a perfect, light scent, that makes my laundry smell good without being overpowering. Very pleased." ~Olivia