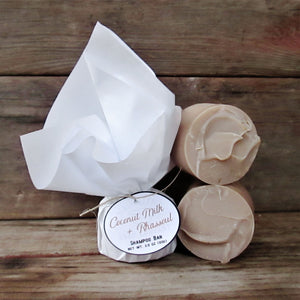 Our all natural sulfate-free shampoo. Made with organic coconut oil and fresh coconut milk for maximum hair hydration. Rhassoul clay from the Atlas Mountain helps to cleanse and remove excess oil buildup.
This bar is scented with coconut and a splash of Ylang Ylang.
Each bar of soap is handcrafted in small batches, using the finest natural ingredients, and is of course, naturally biodegradable.
Ingredients: Saponified coconut oil, coconut milk, fragrance, Rhassoul clay, Ylang Ylang essential oil.
Net wt. 3 oz