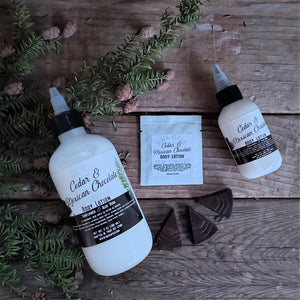 CEDAR & MEXICAN CHOCOLATE
The perfect blend of woodsy cedar with a hint of Mexican chocolate.
Now I know you may like those really thick lotions. Thicker must mean better or more moisturizing, right? Thicker really just means more of the stuff that thickens lotion has been added. Thicker creams are good for winter months and extreme weather, where a barrier of protection is needed but, for everyday use, a thinner lotion just works better. It gets the job done faster and more efficiently, quickly gliding into even the tiniest creases, until your skin is completely moisturized.
It spreads easily and absorbs quickly, providing nourishment in abundance. In the humid summer months, you will never feel sticky or greasy. It soothes dry, sensitive skin and adds plenty of Allantoin to keep the skin supple, healthy and youthful. Made with Sunflower Oil, Soy, vitamin E, Pro vitamin B. organic Aloe Vera and Silk Proteins, it's a delightful treat for your skin. Now it's also Paraben Free!
Sample Net Wt. .2 oz
Travel Net Wt. 2 oz.
Full Net Wt. 9 oz. 
Large Net Wt. 17 oz.
ingredients: deionized water, sunflower oil, soybean oil, aloe vera gel, ewax nf, palm stearic acid, glycerin, cyclomethicone, sodium lactate, allantoin, potassium sorbate, fragrance, citric acid, silk protein, panthenol, silver citrate, vitamin e.