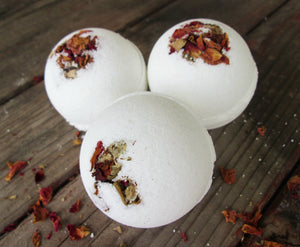 Imagine walking down a tree lined path and happening upon a briar of wild roses. The soft, sweet floral aroma that is released as you brush the petals is evocative of this incredible bath bomb's scent. This is for those who like the idea of a rose petal bath but, don't have time for the rose petal clean up.
Salt bombs are fizzy balls full of delightful aromas, detoxifying salts, botanicals and luxurious oils. This bomb has so much salt, you can actually feel the difference. While you are in the bath, drop one in and treat yourself to a relaxing spa treatment at home.
Ingredients: sodium bicarbonate, citric acid, sea salt, magnesium sulfate, coconut oil, fragrance, rose petals.
Net Wt. 8.5 oz.