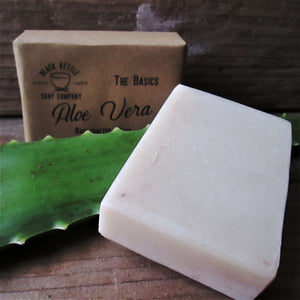 Aloe Vera is a well-known remedy. It's been mom's go to for burns, boo boos and blemishes for centuries.  This soothing soap can benefit all skin types and is good for all over.
This bar has been crafted from fresh aloe leaves, perfectly blended for maximum awesomeness.
The amount of lather you can work up will amaze you. There are no essential oils or fragrances added, just good clean soap.
Net wt. 4 oz.
Ingredients: Saponified certified organic coconut oil, aloe vera puree
This product is vegan and palm oil free.