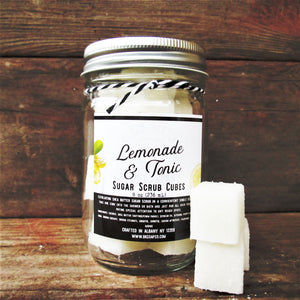 Some of us are not going to the spa anytime soon. Does that mean we have to go around with unpolished, rough, dry skin? No, of course not. You can buff your way to beautiful, smooth, soft skin with our exfoliating Shea butter sugar scrub in a convenient single use cube.
Just take a cube into the tub or shower with you. Rub over your skin smoothing any rough spots, reviving your skin's natural glow. You will emerge smelling you've dived right into a tall glass of sparkling, effervescent lemonade. Refreshing is the only thing to call this impactful punch of powerful lemon scent.
Net Wt. 8 oz.  15 cubes
ingredients: sugar, shea butter, glycerin, propylene glycol, purified water, sodium cocoate, sodium stearate, soybean oil, sorbitol, sorbitan myristate, fragrance, titanium dioxide.