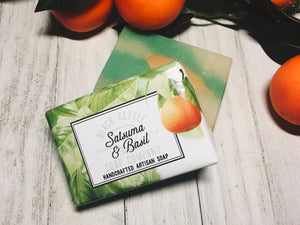 This soap is available in limited quantiles for a limited time.
Say 'goodbye' to dry skin blues with this delectable Satsuma & Basil soap. Its delicious citrus and herb scent will have you asking, "Is it bath time already?!" Plus, you'll feel squeaky-clean and refreshed after every use. Get ready to have a citrusy-fresh day!
Its mandarin and basil scent are complemented by a hint of peppercorn. Its natural ingredients provide an extra layer of protection for your skin, while its light scent ensures a refreshing start to your day.
Every bar is handcrafted in small batches using the finest natural ingredients and, of course, they are naturally biodegradable.

Ingredients: saponified oils (coconut, olive, rice bran oil, soybean, castor), water, fragrance, mica.
Net Wt. 4.2 oz