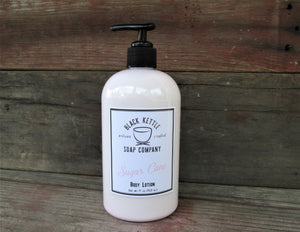 For those who can't get enough of a good thing...
The Sugar Cane version of our nourishing, non-greasy formula will moisturize and soothe your skin. It spreads easily and quickly absorbs, providing nourishment in abundance. Soothes dry, sensitive skin and adds plenty of Allantoin to keep the skin supple, healthy and youthful. Made with Sunflower & Soy Oil, Vitamin E, Pro Vitamin B, Organic Aloe Vera and Silk Proteins, it's a delightful treat for your skin.
It's also Paraben Free!
16oz bottle
Packaging may vary from what is pictured.