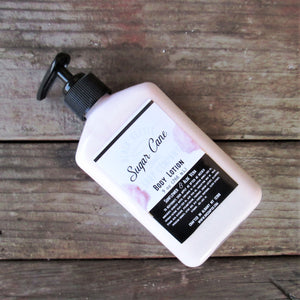 Our lotion is not only the delivery system for some amazing scents it is also a delightful treat for your skin.
The number one ingredient that your skin needs is water. Our lotion is formulated to hydrate your skin and coat it with a micro thin layer of oils to lock the in moisture keeping your skin supple, healthy and youthful. 
No grease slick here. Our lotion spreads easily and is quickly absorbed, providing nourishment in abundance. It soothes dry, sensitive skin on contact.
Sugar Cane smells like sugar, vanilla ice and everything nice. The perfect combination of sass and sweetness.
Net Wt.  Travel Size 2 oz. Full Size 9 oz