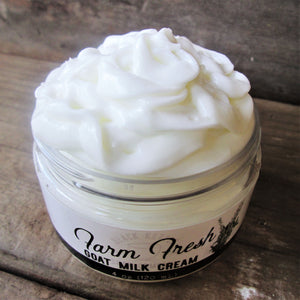 Indulge yourself in the most amazing goat milk cream ever. Slather yourself in this much richer and thicker version of our lotion. The lactic acid in goat milk will leave your skin soft and supple.
It's just what your skin needs to make it through the cold, dry season. This is also a great moisturizer for the face.
Net Wt. 4oz
Lemonade + Tonic
Bright and tart fresh squeezed lemon.
Milk + Honey
A base of creamy, fresh goat milk with notes of sweet honey nectar, kissed with touches of star anise, star jasmine, sweet orange and blushing violet.
Moonshine
Moonshine is slightly woodsy with juniper, aloe, heliotrope and musk. Its clean and fresh scent is appealing to all.
Sugar Cane
A sassy, sweet and playful blend of cotton candy, caramel, vanilla, stawberry, fig leaf, plums, mandarin, lemon drops and raspberry with hints of soft musk and woods.
Sweet Milk
A milky soft sweetness is reminiscent of the warm milk mom would give to help littles ones sleep. Rich with butter and creamy vanilla backed by hints of coconut and tonka bean, this fragrance evokes instinctive feelings of comfort and goodness
The Grove
A beautiful, crisp, grapefruit and grass scent. Bright freshly picked pomelo aroma is the ultimate citrus lovers delight.