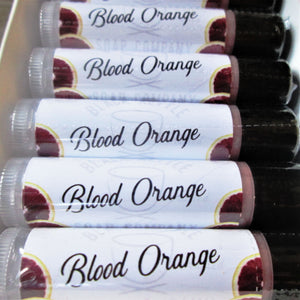 Blood oranges may have originated in either China or the Southern Mediterranean, where they have been grown since the 18th century. They are now the primary orange grown in Sicily. The anthocyanins, a powerful antioxidant, which give the orange its distinct maroon color will only develop when temperatures are low at night, as during the Mediterranean fall and winter.
Our lip butter has been created with essential oils from the blood orange and a variety of skin soothing oils help to keep your lips in tip-top shape. Organic Shea butter, organic beeswax and Jojoba oil, lots of cocoa butter and olive oil and grape seed oil for exfoliation. It's a winning combo. Melts on contact with skin and helps you avoid dry, chapped lips.
It makes a great lip conditioner. Wear it under your favorite lip sticks and glosses to keep your lips from drying out. You can even use it as a body butter in a pinch.
This listing is for 1- .15oz lip butter. Keep away from heat and direct sunlight.