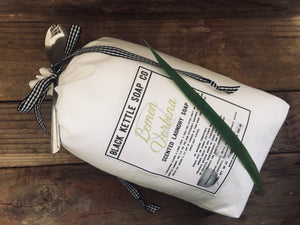 LEMON VERBENA
Our laundry soap leaves your clothes clean, lightly scented and softer than ever, no fabric softener needed. It will arrive at your home in a handmade, reusable drawstring bag (I made it myself), with a fabric ribbon, scoop included ready for to clean 160-320HE loads of clothes. Want to double your scent? Add a scent shot. It's great for linens or anywhere you would like the scent to linger.
5 lb. bag of Natural laundry soap, clean, non-toxic, efficient and earth friendly. Our special soap, made specifically for laundry, is mixed with naturally occurring minerals and citrus to provide you with fresh, clean, laundry…Naturally.
~ COMPLETELY NATURAL
~ HE machine compatible
~ Prevents mildew smells in front load washers
~ Works great in any temperature
~ Safe for the environment and your septic system
~ Biodegradable and Phosphate Free, No sulfates
~ No fabric softener needed- clothes are soft without it
~ Perfect for sensitive skin and baby's laundry & cloth diapers.
~ Borax Free
~ Vegan
One tablespoon sized scoop cleans a large size load beautifully, whites come out nice and bright. Use 1/2 tbs. for high efficiency machines. For extra hard water try adding a 1/2 cup of vinegar in your rinse compartment for super soft clothes.
Try the natural way to do laundry.
Scented with essential oil, and/or no phthalate fragrance oils.
What our customers have to say...
"So, I thought I'd try another natural laundry soap from another Etsy user. She was a bit cheaper and as I was trying to find something I could use indefinitely - I thought I'd try a couple before deciding on a winner.
I LOVE the scent of your laundry detergent (Olive Blossom). The first time I washed my sheets and I went to bed and pulled the blankets up - wow - I was in Heaven. So - I used all of your detergent and then ordered some from another shop - washed my sheets and did the same thing thinking I was going to get the same results -- NOT!!!
No smell. NONE. So, I ordered a 5-lb. bag from you! Can't wait to get it and re-wash my sheets!!" Deb
--------------------------------------------------------------------------------------------------------
"Repeat customer many times. This is my "go-to" shop for all my laundry needs. My fragrance of choice is Cashmere, as it lingers softly for days. Thank you Arricka for making a major chore enjoyable!" ~Linda
--------------------------------------------------------------------------------------------------------
"I have very sensitive allergies and have trouble with any scented detergents (they usually give me migraines or make me start wheezing), so I was hesitant to order anything scented. But this is a perfect, light scent, that makes my laundry smell good without being overpowering. Very pleased." ~Olivia
Pre-treat tough stains with our eco-friendly stain stick.