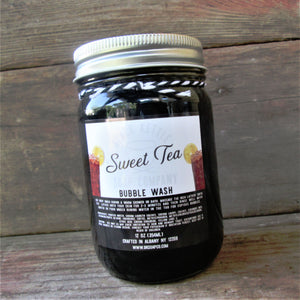 We are taking Southern hospitality to a new level. Sweet tea for your bath, it's dark, rich and bubbly with a splash of lemon.
For tons of bubbles in the bath or shower, this bubble wash really delivers. It leaves your skin feeling clean, but not dry and amazingly soft.
Net Wt. 12 oz. Mason Jar
Net Wt. 9 oz.  Twist top Bottle
ingredients: purified water, sodium laureth sulfate, sodium lauryl sulfate, cocomide mea, cocomidopropyl betaine, fragrance, coffee, methylparaben, methylchlorisozolinone, methylisothiasolone, citric acid, sodium chloride, lake yellow 5.