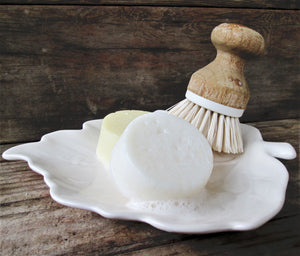 Have you been looking for something that you can do to help reduce your carbon footprint? Do yourself a solid and get rid of those plastic dishwashing liquid containers forever.
This is no ordinary bar of soap. Have you ever used soap to wash dishes? It leaves a film on dishes and no one wants hazy glasses. Our specially formulated dishwashing soap is vegan and uses plant-based surfactants to give you sparkly clean dishes while reducing landfill waste and conserving water.
Lather up your sponge and get to washing. Kudos to you for helping to save our planet.
Net Wt. 5 oz. (180 g) 
ingredients: sodium cocoyl isethionate, organic sodium cocoate, cocomidopropyl betaine, sodium carbonate. (essential oils)*